The Jimmyjane Form 2 is an adorable little toy that fits perfectly in one's palm and is extremely powerful at the same time. If you are the type that loves powerful and pinpointing vibrators, then this one is definitely for you. The toy has a unique shape and design with two tips that can be used at the same time. Yes, you read it right. It has two pointing tips, for a creative orgasmic experience.
WHAT IS JIMMYJANE FORM 2?
The Jimmyjane Form 2 is a small, portable vibrator whose shape resembles a bunny's ears. It is designed for the stimulation of the clitoris and the exterior erogenous zones of a woman.
Each of the cute ears has a motor, producing strong vibrations that make it super hard not to have a world shuttering orgasm. The ears are flexible enough to be pinched together if need be. Its tiny nature makes it perfect for traveling. It can easily blend with the rest of your items too since it doesn't look like a standard sex toy.
KEY FEATURES OF JIMMYJANE FORM 2
Design and Look
JimmyJane Form 2 is an adorable sex toy. The shape of it is cute and unique. As aforementioned, Form 2 has two tips that look like bunny ears. This design makes the toy unique compared to the rest of the toys in the market. The bunny ears are half an inch/1.3 cm apart from each other and they both have motors in them.
The bottom of the toy is shaped like a bulb. This toy is made of silicone and stainless steel, materials that are totally body safe. Besides, the silicone surface is relatively soft against the skin and the two tips are very flexible.
There are 3 color options you can choose from: slate, pink and ultraviolet. This is a light and palm-sized toy, which means you can easily carry it anywhere. 
Powerful Vibrations from two motors
One motor is good enough, two motors? Twice the fun! Plus, both of the motors are so powerful! 😉
The two motors make the Form 2 a powerful vibrator with strong vibrations. They are special because the two motors vibrate differently and independently from each other to create an amazing sensation. Of course, you can't expect it to be as strong as a main-powered wand, but this is one of the strongest bullet vibes I've owned.
Form 2 has 4 vibration modes, one steady vibration, and three pattern settings. The three patterns feature a steady pulsation pattern, escalating vibrations, and a high-low-high vibration.
Fully Waterproof
Everyone loves a waterproof vibrator and the Jimmyjane Form 2 happens to be one. It can be used for underwater fun with either yourself or your partner.
So the next time you are up for a wild ride in the shower, don't forget to take it with you.
USB Rechargeable – guarantees a fresh battery feeling every single time
The Jimmyjane Form 2 charges through a USB charging port that comes with the toy. You will find a recharging base at the bottom of the toy.
The base sits on a dock to charge. It has a light that flashes to show the toy's battery level. It takes roughly eight hours to fully charge it. For most people, this is quite a long time since we just can't wait to start playing with our awesome toy, but the battery does last for a long time.
An important point to note, you should always ensure that you place the toy in the right position so that it does not disconnect while charging.
Lock Mode – No accidental switch-on!
Imagine having a toy that suddenly starts vibrating on its own. Embarrassing, right?
Well, with Jimmyjane Form 2 this becomes a non-issue since it has a lock mode to ensure that the toy does not start vibrating accidentally when touched.
You can lock it till you are ready to use it. This feature greatly suits regular travelers who carry their toy with them whenever they travel.
HOW TO CONTROL AND CHARGE FORM 2?
Form 2 has three operating buttons that control the motors. It has a +,- and ~ buttons. The + and – buttons control the intensity of the vibrations while the ~ button is used to navigate through the vibration modes.
To unlock the toy, press the + and ~ buttons together for 5 seconds. You are ready to go once feeling a short burst of vibration. To lock the toy, press the same two buttons again for 5 seconds.
To charge the Form 2, simply put your JimmyJane Form 2 in the cradle and plug the cradle into any USB charging port. A single charge can take up to 8 hours and the battery can last up to 3 hours.
Below is a visual illustration about how you can play with the Form 2: 
PACKAGING & WHAT'S IN THE BOX?
The toy comes in a nice box that contains only 2 things and it is not one of those complicated toys that comes with a lot of stuff.
1. The Form 2 toy itself, with a 1-year warranty
2. A charging dock where you place the toy to recharge it.
CLEAN AND CARE
The Form 2 is easy to clean and maintain as it is 100% waterproof. Make sure that you clean the toy with warm, soapy water before and after every use. Ensure that you rinse the device thoroughly and dry it afterward. The toy should NOT have any moisture as you store it in the carry case.
If you would like to apply some lube to the Form 2. Make sure only using water-based lube, otherwise, the silicone surface can be damaged.
MY EXPERIENCE WITH THE FORM 2
I was attracted by this toy because of its look. Theoretically, Form 2 works by pinpoint stimulation of the clitoris. You turn the device on and place either one or both ears on your clitoris. With this in place, you can then relax and enjoy the experience.
However, I personally found the vibrations are a bit buzzy, but it was not bad thanks to its two motors and pinpointing shape. The pinpoint clitoral stimulation managed to produce one of the most intense orgasms for me.
Besides, I feel this toy so strongly especially when the clitoris is wrapped around the two ears. Since the ears are flexible, I can easily pinch them together and place them on the clitoris for an even more intense orgasm. It's just impossible to fail to orgasm with the Form 2!
An interesting point to note, however, is that sometimes the toy does not have continuous vibrations. Vibrations keep shifting from one ear to the other. If you love continuous vibrations, then you might not really love this particular toy.
Even with this being the case, all hope is not lost since once you place the toy at an appropriate angle, you will be able to enjoy your experience after all. You will want to place it in a ninety-degree angle to get a more steady and continuous vibration.
Another thing I would like to point out is that the strong motors really stay in the ear part, which means you can get a divine pinpointing vibration for a long time without feeling your hands get numb because of holding the bulbous part.
There are some small drawbacks about the Form 2. The surface is not smooth enough, to my standard. It is definitely not bad, but I prefer a toy to be perfectly smooth, without feeling the silicon seam at all. (See picture below)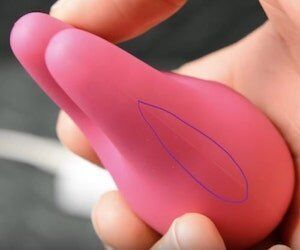 Besides, you must put the vibe precisely in the dock to get the charging start, and you need to make sure not touch when it's charging to prevent even just a tiny bit displacement. And it takes 8 hours to charge…
REVIEW SUMMARY
👉🏻Click here to order JimmyJane Form 2 now!
VERDICT: SUPER VIBRATION GUARANTEES SUPER ORGASM
Overall, the Jimmyjane Form 2 is a great vibrator for those who are fans of pinpoint clitoral stimulation.
If this is the case, and you also happen to be obsessed with powerful vibrations, then you will feel right at home with this toy. It should be on your list of must-have vibrators.
It is one of those toys that looks so small and might be underestimated, yet it is so powerful, it will blow your mind. It is a great toy for every woman though beginners might want to take it slow at first since the vibrations may be too powerful for them at the beginning.
Generally, this toy is highly recommended and every girl should try it out.
Who doesn't want a pillow biting orgasm? I know I do! 😉